The Anchor Light: Port Stephens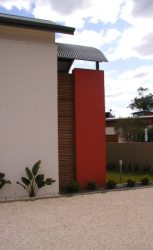 Project Description
Designed firstly as a residence, this building is also boutique bed and breakfast accommodation for four guests (with capacity for extra two guests upstairs), with an owner's residence above.
The building is designed to be flexible and includes six decks, a spacious living area upstairs with water glimpses, a designer kitchen, six bedrooms (four with kitchenettes), a study, a bathroom, six ensuites and a cantilevered steel and timber stair in a formal entry. It also has accommodation for two small cars, or a car and a boat.
The site is located on a prominent corner in Corlette, at the corner of Sandy Point Road and Corlette Point Road. Corlette Point Road leads to the popular Anchorage Resort making this site a landmark. This site also is located at an approximate midpoint from Port Stephens centre to Corlette shopping centre, where Sandy Point Road changes direction.
The site previously had a small beachcomber constructed in an ad-hoc manner. The proposal took its massing and streetscape relationship cue from the more recent construction on Corlette Point Road.
There was no 'cutting of corners' in the construction process, as all the construction team strived for an excellence akin to art. Every trade has contributed to the design development with almost countless small features, including the inset handrail and door mat well, external
chrome taps chased in, an amazing cantilevered steel stair and double
curved kitchen bench.
Project Details
Gross floor area: 478m2
Deck area: 88.7m2
Site area: 581.7m2
Building cost: Between $400,000 and $500,000
Design completed: July 2001
Construction: 2002-2004
Project Design team
Client Owner builder: David Hardin
Design assistant: Alessandra Barnes
Architect: Janet Henriksen
Carpenter: Chris O' Reilly
Steelwork: Bret Harman
Kitchen Joinery: AGN Joinery (kitchen stairs, fridge units)
Lush coatings Pty Ltd (design Kitchen fridge units)
Architectural Hardware: Paul Grant
Contributing Companies
Suspended Floor Slab: Ultrafloor Pty Ltd
Paint and Render: Rockcote Enterprises Pty Ltd
Materials and Finishes
Ground floor Slab: Reinforced concrete
Lower walls: Big Bricks Bagged
Upper Floor: Ultrafloor reinforced concrete system
Upper Internal walls: plantation pine framed
External walls: Big brick bagged.
James Hardie prime line weatherboards
Roof framing: Timber trusses
Roofing: BHP Colorbond custom orb.
Windows: Aluminium powdercoat
Floor finishes: Lower floor ceramic tiles
Upper floor: Floating timber and wool carpet.
The Brief
The project brief was detailed and comprehensive. It began with the budget (of $250,000) and the design requirement that the project be "simple, elegant and attractive. A little classic: a little arresting" and also that solar design principles were to be used. The requirement for materials was that they all be high quality. Also the materials had to allow good sound attenuation. It was to have a residence above and to have four very large guest bedrooms with ensuites.
Needless to say, an early budget estimate based on square metre rates suggested a construction cost between $370,000 and $410,000.
Architectural design statement
When confronted with the brief spatial requirements and the very small corner site, I realised the site constraints would be a powerful design generator.
The design began with the idea that all the rooms should face due North for that was both the quieter street and would provide control of solar access. I made a conceptual 'envelope' that stepped to the North that filled the site and generated perspective options. Despite being an admirer of Frank Lloyd Wright's Chicago work, David
preferred the option with the curved roof.
A garage was negotiated as a necessity and located on the southern boundary. A formal entry was located for access from Sandy Point Road. The upstairs became overflow accommodation and a long room created over the garage, with a steep curve to reduce overshadowing to the southern neighbour, which changed the entry's curved roof to match.
At each stage the form was revisited as a perspective. Perspectives were used as a design tool to inform myself, David and the neighbours. When David asked for a spa in the bathroom, without reducing the bedroom size, a perspective was used to convince David it would look 'ok' to pop the room out under a little gable. To my surprise, many of the neighbours view this resulting complexity of forms near the entry a delight.
Ecologically sustainable design features
To both myself and the clients it was a given that the design should be as
sustainable as possible. During the design process I was completing
masters research at Newcastle University in the area of design and
its effect on reducing environmental impact and we applied the lessons learnt there.
Energy
My research is finding that any extra energy embodied in the materials of the structure that is used specifically to reduce energy in use as solar collecting thermal mass is beneficial (Henriksen, 2002). Thermal mass tends to even out the highs and lows of external temperature by storing warmth and coolth.
This design uses a slab on ground and cavity masonry to the lower levels and a reinforced concrete (Ultrafloor) upper floor. Also the Ultra-floor system with its pre-stressed beams saved around 20 cubic meters of concrete over a conventional suspended slab, which equates to saving approx. 48GJ of energy and 8.5 tonnes CO2 (BHP LISA). The masonry and concrete floors have other benefits in this case including good acoustic performance and durability.
The design has all liing spaces and bedrooms facing north with services to the south. Of course my findings also confirmed thermal mass only works well if it has sunlight penetration in winter when it is needed and that it is cut out in summer by appropriate shading. The design seems to have be sucessful as while working the last two years after the building was
"locked up" the clients have experienced that it can be significantly cooler in summer inside and significantly warmer in winter, with the downstairs guest rooms performing best They have noticed they only need supplementary heating in winter if they have three consecutive days of rain and/or cloud. It requires one sunny day to return it to feelng warm.
The design also allows cooling in summer by cross ventilation as external conditions are often appropriate. The upper floor has Southern windows allowing a pull through effect from the North East where the prevailing summer breezes come from. All the lower bedrooms have the ability to be
cross ventilated without opening doors either through bathrooms or
via louvre panels over the doors.

Water
The main features to reduce water use are the drip irrigation for the landscaping and dual flush toilets. Research shows that up to a quarter of household water is used to water the landscape with the second next usage for toilet flushing.
The site has sandy soil and to reduce
the impact of the building on the natural site water flow hard
landscaping has been minimized. The required on site parking is to be
a graded gravel selected for its performance.

Durability
Research is showing that the throughput of materials has a serious impact on energy use. Well designed longer life durable buildings have reduced energy impact. However the greatest energy reduction can be achieved by good construction practice and care during construction that allows materials to perform to their best. This project at all points has used durable materials and the quality of installation has been controlled.
Each external timber has been prepared and painted. Research has shown that initial preparation of timber significantly increases timber life. All fixings where possible are stainless steel. In many cases the standard fixings that come with a product (such as those connecting the downpipes) have been replaced by stainless. All external steel work to the balustrades is hot dip galvanized with a two pack epoxy coating. The external wall finishes are protected by waterproofing the footings to prevent rising damp, which will reduce the life of the coating significantly. The bathrooms are often sources of leaks that cause premature damage to internal finishes. In this case the waterproofing is in excess of the codes with a double coat fiberglass finish to the entire floor.

Barriers to sustainability measures
This project was going to incorporate a
solar hot water system. However the Northern roof was facing the
street. This for aesthetic reason meant the Tank was best not located
on the roof. The local plumber had observed that the pump uint due to
the hard water in Port Stephens failed. In this case when a number of
guests would have been relying on having hot water.
The air conditioners were included not because the house was likely to become uncomfortable but the were installed as all the local real estate and travel agents recommended that top end accommodation required a flick of the switch climate control. People expected it.

Future Features
To the rear of the building there is a space for a future water tank to collect rainwater, and area has been set aside for possible Gas heaters for the possible post fitting of instantaneous gas water heating.
Civic Presence
Anecdotal evidence suggests the building has become an icon to the area. The workers and the clients have all noticed people stopping to look at the building or to take photos of it. It has something. Perhaps it's
interesting. The neighours are sure their property value is greater
and that is a great compliment. Perhaps people like it because it's
bright. The neighbours were all startled by the brilliant 'Carmen
Miranda' paint, bu positive. Now that corner to their street
has a brilliant red signpost.
Though it was not intended, the relationships the client built with the community during the construction process turned out to be its strongest contribution to sustainability ideals. The building as constructed is thermally comfortable, durable and well detailed and therefore it makes its designers, builders and community proud. Though it exists as a finely
crafted thing, it has a social life, as its owner-builders put time
and effort into working with the tradespeople and local community to
achieve also their commitment to the project.
This building is an expression of a community at Corlette Point.
It has been published in Hunter Lifestyle Magazine 2005