Headland View: Corlette
Finding the views
A flat site in a spectacular location.
with a little house with small rooms rather showing its age.
The issue for the new owners:
everywhere there were walls blocking the best views from the house!
First we designed a large addition to go up to capture the views over the neighbour's house. But there was very little left of the existing to keep and it was beyond the budget.
In analysis we discovered many views could be captured from the lower levels, one particularly to the headland.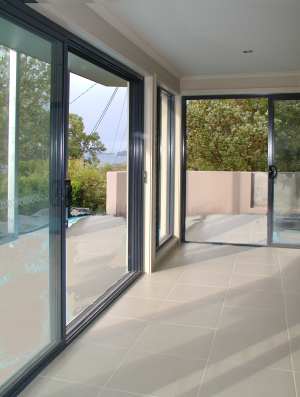 So the decision was to stay with the single story.
With a card model we tried many options to reconfigure the roof and walls to capture the views.
This option clearly emphasised the best view
and the peculiarity of the site..
and it made a covered place to sit in the Northern sunshine.
and it allowed improved solar access to the living areas
The house had a distressing drop ceiling in the bathrooms where the rooms projected under low eaves.
Solution, a new gable to pick up the existing trusses.
Small rooms? Some walls were moved and others removed to open vistas.
The best thing? No steps!
Why make a house bigger, when it can just be made better?
Project Details
Location: Cnr.of Mulabinda Parade and Myan Close Corlette
Site area: 616.2m2
Work Cost: Less than $250,000
Floor area: Additional garage 36m2
Deck area: Additional of 24 m2
Project Design team
Designer: Gail Armstrong
Architect: Janet Henriksen,
Engineer: Annette Henriksen of GH Consulting
Drafting: Shellee Venaglia
Builder: Owner Builder
Materials and Finishes
Floor: Existing concrete slab
Walls: Existing rendered
New Framing: Plantation pine
Roof framing: New truss and engineered structure to deck &entry
Roofing: Colorbond custom orb.
Windows: Aluminium powdercoat
Deck Posts: Galvanized Steel
Colours and fittings: Selected by Gail Armstrong