Own House
Detached house 440B Pennant Hills Rd, Pennant Hills
One would think that an architect in designing their own house would have reasonable autonomy. Not true.
Firstly there was the strong minded co-owner, my sister. She had more say as she earnt more money being a structural engineer for an international firm, whereas I had only just graduated from an architecture degree. I should add that though a year younger she has always earnt more money.
Secondly we were going to be owner builders, but this was only feasible with the help of our father. He had a significant say.
Thirdly the site had an stormwater easment from Pennant Hills Road that ran 'diagonally' accross the site. Which in fact was why we could afford to buy it at all.
Fourthly Council came back to us and said we could not build a two storey house. We never worked out why this was so, as in the next years two storey houses popped up along the street behind us, and there were two storey houses further along the street.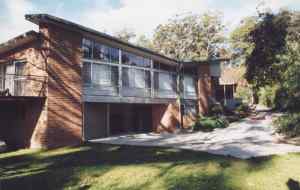 I remember frantically redesigning on a table at a cafe in Sweden and faxing back to my sister who ended up documenting the re-designed job.
But Council then added we had to build above the overland stormwater flow path. Ironically, due to the site slope and the main functions all being on one level we ended up with a sizable lower floor of 2.3m high, which technically is not classed as habitable, in which we added a bathroom and where we lived for a year while finishing the fitout upstairs.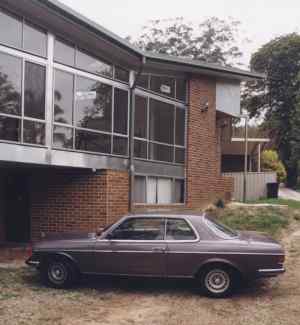 This was a true idealistic first design. It had a flyaway roof with a cantilever, huge areas of glass and a band of clerestory windows articulating the ceiling plane. The roof form had come to me when speaking to my sister on the phone. I just saw it. She could not undertsand what I meant even with a section, so the plans had her version. When I came back to Australia I built a model so my sister and father could understand. And that is how the roof was built.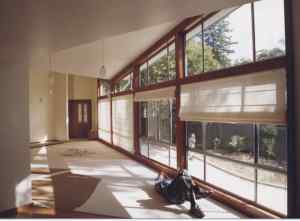 We made decisons as to final finishes on the job. An early decision was to reduce the area of glass and pull back the cantliver. I'm glad we did. After living in the house, the large area of glass was a source of excessive heat loss and gain as it was, and, we needed wall for furniture. The roof finish and the bricks set the theme. A beautiful warm face brick was chosen as my father and sister rejected render and painting. It turned out to fit into the context well also. The colorbond 'rivergum' was to disguise the gum leaf stains from the trees of the park opposite.
I used stained meranti faced plywood and wide meranti skitings and architraves. They gave the house a faintly late 60's feel. Even then I knew meranti was a rainforest timber. I also knew it was affordable, something that was seen and appreciated as beautiful (by me) and most likely it would be there for at least 50 years. To have used it for formwork or framing would not have been acceptable. The windows were standard off-the-shelf anodised. We ganged them together using flat sheet aluminium with screw fixings that you hardly see. This idea led us to use galvanised sheet to complete the framing over the front door and the cladding for the clerestory wall. It went on in a day with my father's favourite, tek screws.
The front door. It was on-special as a reject second. My sister liked it. I thought about it a bit. It went with the late 60's Australian feel the house was begining to have. Sort of.
I discovered that living there was a delight. I could see the planes framed in the remnants of the clerestory window. We could see the changing sky with the sunsets still having privacy from the neighbour. We built a deck, with a handrail rescued from a job i was working on at the time, and it was a delighful place to sit. The kitchen was all timber veneer with two glass cabinets, and from that window we could see our neigbours driveway and say hello to them. The bedrooms were generous but cosy and the living room with the high ceiling and large windows let my soul live. It was designed to contain my sisters baby grand piano. We even designed the doors in two leafs so we could get the piano in.
The irony was that after all the effort to make a house that we loved. My sister was transferred to Melbourne, and I decided a job in Newcastle was better than living in a house alone. The house was bought by South Africans, I think they liked the natural finishes.